This is a very special month for the Guidecraft Educators. Each one of us had the opportunity to choose a favorite item from the website to review AND host a giveaway. That means that you have the opportunity to win new seven different Guidecraft Toys and Furniture pieces.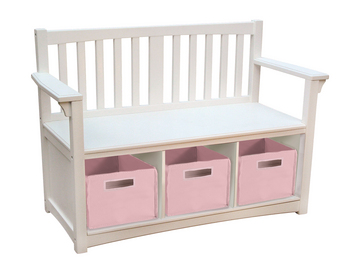 It was so tough choosing something special to add to our collection of Guidecraft items, but I decided that the Classic White Storage Bench with Baskets would be perfect! Lydia's bedroom walls are painted green, her furniture is white, and she has accents of pink throughout. She also has a beautiful window framed by sheer curtains. It was just the right spot for this bench, which measures 27″ H x 34.5″ W x 14.5″ L.  She loves sitting on our bench and looking out her window (to find lizards). It's great for reading books and stargazing at night, too!
The three baskets, which measure 8″W x 12″D x 6.5″H each, are the perfect size for so many different things: diapers for little ones, shoes and socks, dolls and their accessories, books, dress-up clothes, play food, blocks, etc. The bench would be great for a reading area in a preschool or early elementary classroom, baby's nursery, young girl's bedroom, family room, or screened in porch.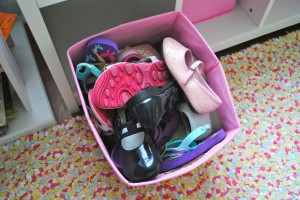 One thing I noticed while assembling the bench is that one or two of the directions are somewhat vague, and I ended up switching up the order to assemble it more easily. I suggest looking through all of the illustrations first and carefully completing each step. Keep the screws loose in case you need to move anything around and then tighten at the end.
Here's a link to the other Guidecraft giveaways. You can enter them all! 
BUY IT! You can purchase the Classic White Storage Bench with Baskets for $170.
WIN IT! You can win a Classic White Storage Bench with Baskets by entering below! This giveaway is open to the US and Canada.
*I received the aforementioned product for free to review. The opinions expressed are honest and provided without monetary compensation.