What do you get when you cross a traditional wooden puzzle with play food? Sorting food trays by Guidecraft! These food trays make great toddler and preschool-age puzzles, but they also work well as pretend food with a play kitchen. They come in six different balanced meals: breakfast, lunch, dinner, Italian, Mexican, and Japanese.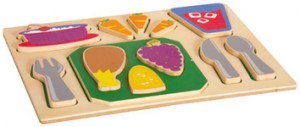 These food trays can be used in so many different ways! Children can use them as traditional puzzles by placing the pieces in their corresponding cut-outs. Not only can the food items be removed from the tray, but the dishes can be removed as well. That leads to the second mode of play – play food. Children can take out all of the pieces and use them to cook and set a pretend table. The puzzles represent different types of meals (breakfast, lunch, and dinner) and different countries (Italian, Mexican, and Japanese). This invites the use of so much receptive and expressive language: to identify the different food items, the types of food, different cultures, table manners, healthy eating, and sharing.
As with all Guidecraft products, they are very durable and brightly-colored. Because the Sorting Food Trays are perfect for children ages 18 months to 5 years old, children will get years worth of play out of them! This video shows just a few ways your child can play with the Sorting Food Trays.
BUY IT! You can purchase the Sorting Food Trays for $20 – $22 each.
WIN IT!
 What's great about this Guidecraft Educator group is that each month, one of us will be hosting a giveaway of the product that we have all reviewed. 
Visit Teach Preschool for a chance to win All Six Sorting Food Trays for a special child in your life. 
This contest is open to the US and Canada.
* I received the aforementioned products for free to review. The opinions expressed are honest and provided without monetary compensation.