The Guidecraft Steve Light Storyboxes (RV $50) are new for 2012, and have already been extremely popular. The kits come in 4 different classic children's stories from all different cultures:
Hansel & Gretel
Little One Inch
Rapunzel
The Girl Who Loved Danger
Each kit is neatly packed in a wooden box. Each box contains a small blue mat, all of the hand-painted manipulative pieces to tell the story, and the story booklet. These kits are designed by award-winning children's writer, illustrator, and teacher, Steve Light.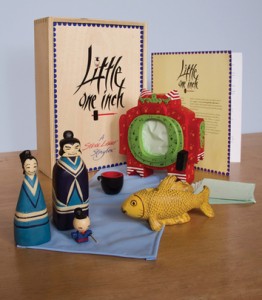 I received the Little One Inch storybox. This is a traditional Japanese folktale about a brave little boy who was able to overcome his size to defeat an evil monster and protect the princess. My family sat together this morning. I read the story while my children manipulated the small pieces to help tell the story. While the kit states 'ages 4+', younger children can help tell the story with adult assistance.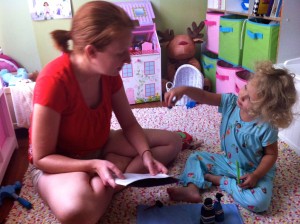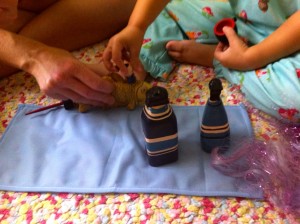 Here are several ways the storyboxes can be used with children PreK – 5th grade:
The teacher can read the story while a small group of children manipulate the different pieces to visually represent the story. Each piece can be assigned to a different child.
The teacher can present the story during whole group instruction and use the pieces to tell the story.
It can be used as a small group learning center activity in a primary classroom.
Children who struggle with listening/reading comprehension (and students with disabilities who are nonverbal) can use the pieces to answer questions about the story (e.g. Who is the main character?)
Children can use the pieces to create their own stories and tell them to one another.
The teacher can present each of the 4 stories and talk about folktales. Each child can write and illustrate his/her own folktale.
Children can research the origins of and culture behind each story.
BUY IT! You can purchase  any of the four different Steve Light Storyboxes for $50 each.
WIN IT!
 What's great about this Guidecraft Educator group is that each month, one of us will be hosting a giveaway of the product that we have all reviewed. 
Visit  PreK Pages for a chance to win a Steve Light Storybox for a special child in your life. 
This contest is open to the US and Canada.
* I received the aforementioned products for free to review. The opinions expressed are honest and provided without monetary compensation.